Thermal transfer ribbon – for logistics and commerce
The choice of the right tape is essential if you want to print data quickly. Label printers usually use resin, wax or mixed tapes. Choosing the right type has a huge effect on the print quality. The substrate on which we will print needs to be taken into account. For thermal transfer printing, it is possible to apply barcodes, information and graphics to various types of surfaces. These include nylon, satin, cardboard, paper and PVC, PE, PET and PP films. Thermal transfer ribbons are used in the automotive, pharmaceutical, food and many other industries. You can choose tapes in several colors to design your dream label.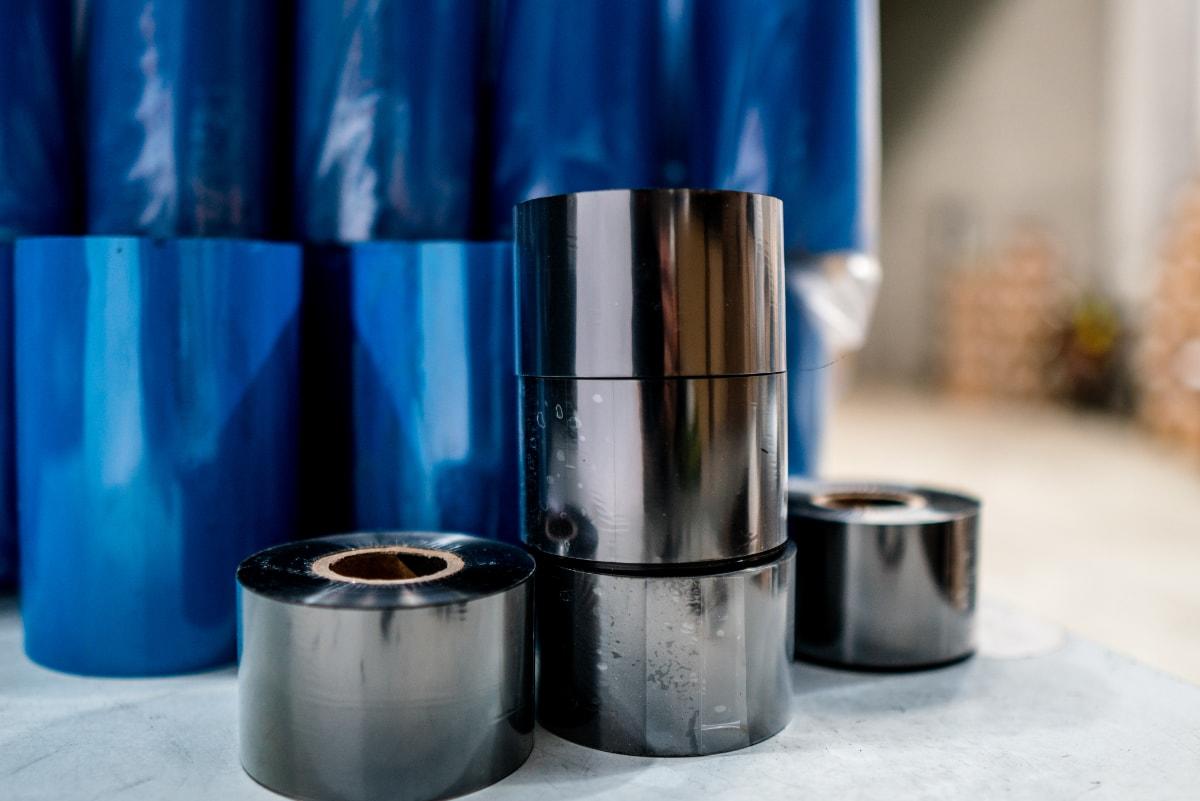 Available types of thermal transfer ribbons
Wax tapes are not very resistant to chemicals and mechanical damage. For this reason, they are only used for products with a short shelf life, not exceeding 12 months. Because this material is extremely delicate, the temperature of the printer head must not exceed a certain level. If it is too high, the wax will be damaged.
A more resistant alternative is resin tapes – they cope well in outdoor conditions. It is a relatively durable material that is used for printing on paper, textile labels and foil. However, this type of tape requires a high temperature print head. If you need matte, glossy, semi-gloss labels or cardboard tags, then it is worth using the so-called mixed tapes, i.e. wax-resin. They are more resistant to scratches, moisture and temperature than wax models. However, they are less durable when in contact with chemicals than resin tapes. The right choice depends on the conditions in which we will use the labels produced.
What are thermal transfer labels useful for?
We can find the greatest number of such labels in various warehouses and logistics centers. Special printers are able to quickly produce large quantities of labels with resistant prints. The information contained there will not be damaged under the influence of moisture, UV radiation and abrasion.
Thermal transfer models are also used in steel storage centers and building warehouses. They are used to mark products that are outside for a ling time. They are therefore exposed to weather conditions. Thermal transfer labels cope well with these conditions – the print remains visible and clear. During the production process they are equipped with a layer of strong glue that allows adhesion to the substrate. This means that they are ready to use immediately after purchase. They are sold in rolls, which should then be attached to the printer. The price depends primarily on the number of rolls and the label format.
Which printers are used for thermal transfer ribbons?
The task of the label printer is to print self-adhesive labels. It is the most popular tool used for the production of this type of labels. Although they can have any shape, the most common are rectangular labels with rounded corners. Thermal transfer printing allows getting a variety of colors – just use the colored ribbon. This is not possible in thermal printing. These types of printers do not use toners or ink.
Thermal transfer models use plain paper and ribbon. There are many different types of printers for thermal transfer ribbons on the market. It is worth noting that each of them supports all three types of carbon paper. When choosing a tape for the printer, we must pay attention to the diameter of the core. A difference of even a few millimeters may prevent proper printing. For office printers, tapes on rollers with an internal diameter of 12 mm are the optimal choice. Instead of printing labels on your own, use the services of an experienced company.
Office
ul. Dziuplińska 2
55-220 Miłoszyce
Wrocław, Poland
Zebra Partner Connect (check the certificate)
Order now and test a free roll of transfer ribbon!