Do you know how to choose the right labels?
There are many factors to consider when choosing labels. Otherwise, there is a risk that we will make the wrong choice. There are many types of raw materials on the market that are used to make self-adhesive labels. Individual models also differ in size. When choosing them, we must look at the dimensions of the printer we use. However, the most important issue is what we are going to use the adhesive labels for. After specifying their purpose, we start looking for the right models. Do you know how to choose the right labels?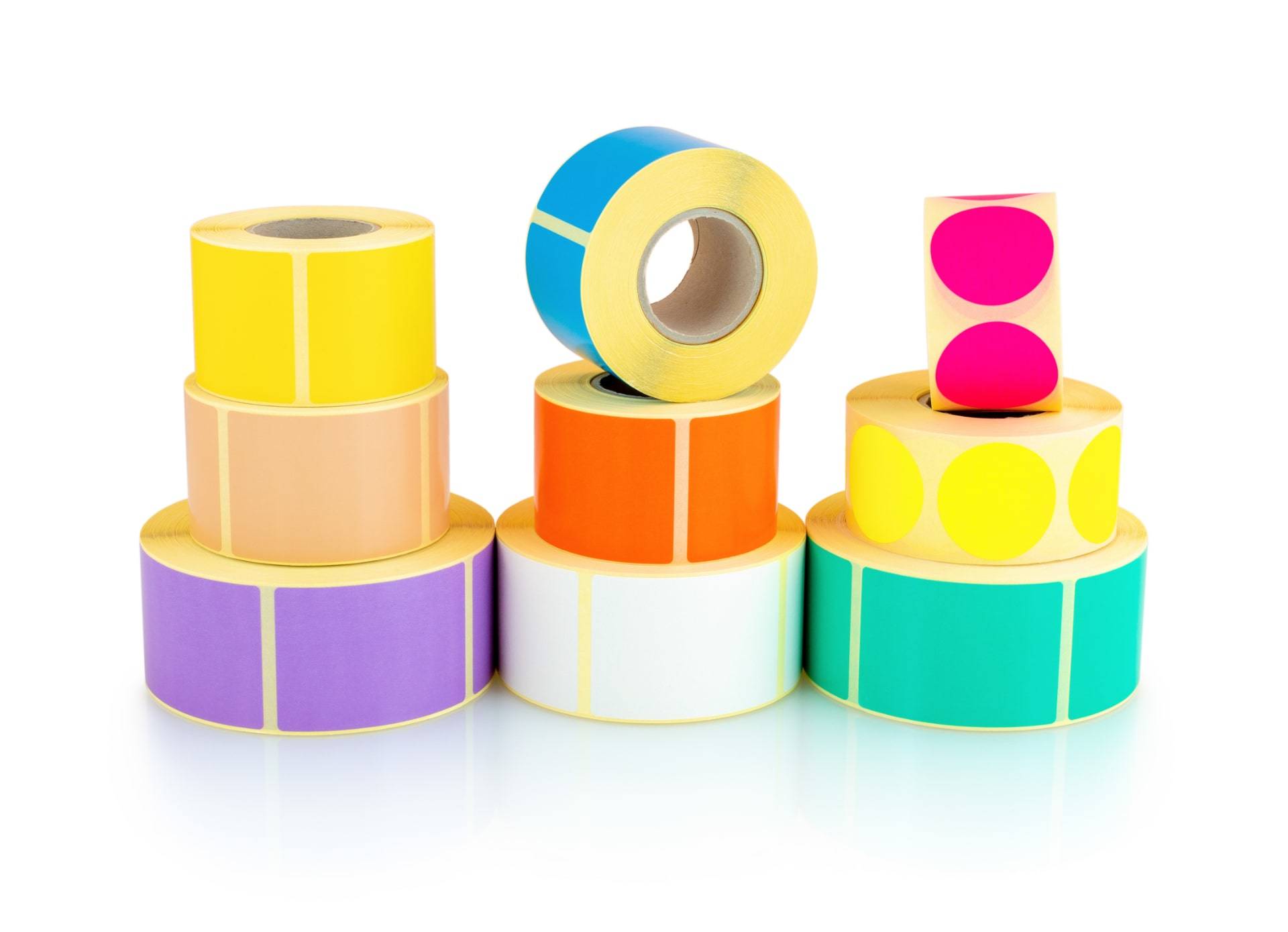 What types of labels are there?
Paper labels are usually used for thermal transfer prints. They are produced using thermal transfer ribbon. This type of print is distinguished by considerable abrasion resistance and durability. UV radiation does not darken it. If weather resistance is not required, then it is worth choosing paper labels. However, they do not work well in contact with moisture.
In turn, models made of PE (polyethylene) are used mainly in the cosmetics and chemical industries. They are useful for labelling plastic bags or other soft containers. Whereas, polypropylene (PP) models are not only relatively durable, but also very stiff. This means that we can easily process them mechanically. These types of labels are used in the production of advertising materials, textiles and packaging. They are very popular in the food industry. The lower flexibility of PP film means that this type of label is not the optimal choice for uneven surfaces or soft packaging. Instead, they are resistant to chemicals, moisture and high temperatures.
For electronic and electrical goods, polyester (PET) labels are usually used. This is primarily due to the resistance of this material to changing conditions, regardless of whether it is chemicals, temperature fluctuations or moisture. Such labels also work in storage and industrial conditions – polyester is highly resistant to abrasion. It is ideal for the production of rating plates or information labels.
Companies looking for more flexible labels should consider vinyl film models. The properties of this raw material make it ideal for curved and porous surfaces. Such labels can withstand 5 years in external conditions, while for internal applications there are no restrictions. Vinyl products are often used to seal computer parts and electronic components because they do not conduct electricity.
What factors have the greatest effect on the choice of labels?
You definitely need to consider the environment in which the labels will be used. With this knowledge, we will be able to choose the right material. The shape of the label also matters. The most common are rectangular products. Since we only place a bar code and information needed to identify the goods on them, there is no need to use more creative shapes. The situation is different for products that are to draw the customer's attention. Then, much more often companies decide to use labels in the shape of an ellipse or a circle.
More original solutions will require some investments in your own die and they will significantly complicate the process of producing such labels. Another criterion for their division is the type of adhesive used – it can be strong or easily breakable. We need to consider what surface our labels will be applied to. Smooth surfaces do not require special adhesives, but the situation is quite different for rough or soft surfaces.
How to choose the right labels?
Do you know how to choose the right labels? If you want to make the right choice, it is best to familiarize yourself with various stages of this process. This includes information such as how goods are stored and their characteristics. Labels that will work for a window manufacturer will not necessarily be the right choice for a fish processing company.
Office
ul. Dziuplińska 2
55-220 Miłoszyce
Wrocław, Poland
Zebra Partner Connect (check the certificate)
Order now and test a free roll of transfer ribbon!